As a CBC (Canadian born Chinese), I've had the notion of returning "home" from Hong Kong to Canada for many years now. Only it didn't happen as planned. I'd told my family I'd be away for two years. Those two years ended up being four years, six years, eight years, then…twenty! Finally, I was ready! But I was no longer moving back to Canada as a single woman. I am married now and have two young kids! As excited as we were about our move to Vancouver, it was equally daunting since I had spent twenty years in Asia, and the thought of uprooting everyone and having to think about housing, jobs, and schooling made it even more frightening.  
How would life in Canada be like compared to Hong Kong? What would school be like? Would the kids be able to make friends easily? How on earth do I even enroll them in a darn school? Would they need to take tests to get accepted?  
First things first, I had to tackle the issue of schools. My kids were five and ten at the time, nicely settled in their current school in Hong Kong (which we all loved) and happy with their friends. Calling and notifying the school that they would be leaving was terrifying as that is when sh*t got real. 
The next step was figuring out how to apply for school in Vancouver in the middle of the school year. We quickly explored three options – public schools, private schools, and Catholic schools. Canadian public schooling provided free education and is meant for kids who resided in the surrounding neighborhood. Private schools have limited spaces and require a tuition fee plus interviews. Catholic schools also have limited spaces and require interviews but charge a lower tuition fee. Our arrival into Canada coincided with the end of the first term, meaning we had missed all school interview opportunities. But we saw our community public school as a fantastic opportunity for our kids to attend a school where they could meet neighborhood kids easily and form strong friendships (plus it was free).  
To start, we knew we had to go to the school board for enrollment, and that this must be done in person. Prior to my hubby flying back for a couple of weeks to get this rolling, we were able to learn some important details. It was comforting to know that by law, kids must be given a place in school, though there is no guarantee as to whether it's the one closest to your home. They do try to place siblings in the same school though, so that was reassuring. We learned that we had to provide certain information to the school board such as three pieces of address proof, since public schools are generally assigned by catchments (to homes in the respective district). We also needed children's birth certificates, proof of status in Canada, and immunization records. Upon our arrival, we scheduled an English test for them, a formality to see if the kids needed ESL assistance or if they would be in mainstream classes. Once that was done, they would be placed in the appropriate class and a start date would be provided. So far, so good. 
We were thrilled when we found out that the kids were placed in the public school that was a 10-minute walk from our home. It is a French immersion school with English only classes as well. Even though my kids attended the English stream, we loved the idea that students had such an option, and at no additional charge. I was a little surprised to see that all the classes comprised two grades, meaning teachers were responsible for teaching material fit for both groups. Apparently, it's not uncommon here, plus it was nice to see different age groups getting along.  
On the first day of school in Canada, I think I was just as nervous as the kids. By the end of the school day, I was pacing outside by the playground. I clearly remember waiting outside the classroom doors as the bell rang, a tinge of anxiety rushing through me as I searched for their faces amongst the swarms of children. What came next gave me a true sense of relief! My kindergartner ran out, made a beeline for me, and asked if he could play with his new friends. I nodded and nearly cried. Off they ran to swing, slide and climb in the massive playground area. I then looked for my older one, who I was secretly more nervous about since she was entering her tweens and change can be extra difficult. Luckily, I had nothing to worry about as she exited her class with smiles, surrounded by a few girls to her left and right. She also asked if she could stick around longer to play with friends, and I gladly said "Yes!". It was calming to witness the welcoming spirit, friendliness, and kindness of both the staff and children. This new school was much smaller than their Hong Kong school, and perhaps this helped them adapt quicker to the new setting.  
As days passed, we would alternate between driving and walking to and from school, sometimes staying much later to let the kids burn some extra energy with friends. It was a beautiful sight to see the children laughing and running around with the other kids. We as parents also got to know other families quite well. Having the school adjacent to a 57-acre park with playgrounds, a water park, tennis courts, a dog park, and a sports field added to the appeal of this school and offered many fun options for playdates with school friends.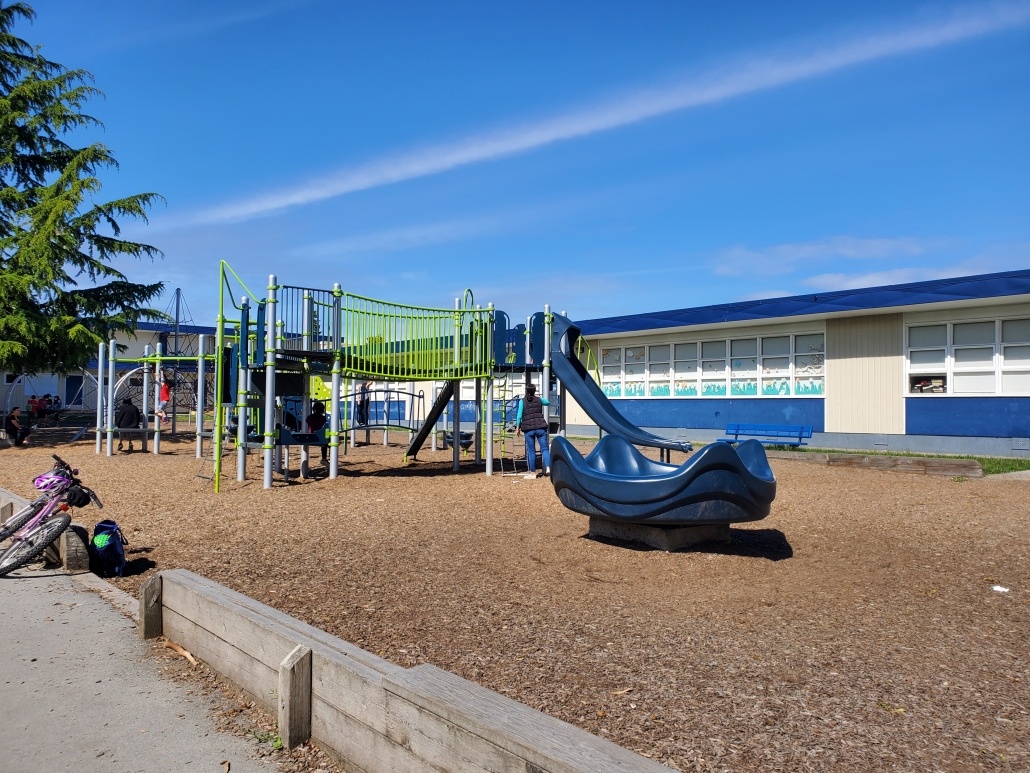 In terms of academics, the kids seemed to adjust nicely. The new thing for them was French, and though I worried that my older one would be behind, it turned out that kids didn't formally start French lessons here until Grade 5, unless they were in French immersion classes. Since my kids attended a Canadian English school in Hong Kong, they were able to fare well with the lessons here and found the Canadian curriculum on par with what they were learning at their school in Hong Kong. They were happy with the minimal homework and the emphasis on spending time outdoors. Equally as important, they quickly made friends and I was relieved to see how happy they both were at their new school. I also quickly joined a WhatsApp parents' group and made new friends of my own.  
One year on, and the kids have moved onto another school. Last September, back to school in Canada meant starting at a Catholic school as we decided to have them in a school in line with our faith. We have kept in touch with the friends and families from the first school though, even the teachers. Ultimately, we are just grateful that we have been able to experience the different school systems, and both communities were equally warm and supportive, and welcomed us with open arms. 
For more information about life in Canada, please contact Christine at christine@101migration.com 
www.101migration.com 
https://www.101migration.com/wp-content/uploads/2021/06/WhatsApp-Image-2021-06-01-at-2.25.56-PM.jpeg
777
1600
Christine Yuen
https://www.101migration.com/wp-content/uploads/2021/01/101MLOGO-original-website-480x130.jpg
Christine Yuen
2021-06-01 11:34:12
2021-06-02 11:01:47
Moving Back to Canada